WILLS POINT, TX – Gospel for Asia (GFA World) founded by K.P. Yohannan, whose heart to love and help the poor has inspired numerous charities like Gospel for Asia Canada, to serve the deprived and downcast worldwide – Discussing providing sewing machines, tin sheets, smiles and the eternal hope of Jesus through Christmas gift distribution.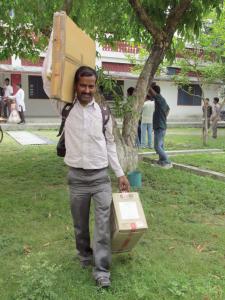 Contagious smiles and joyous hearts filled the open-air gathering. Bicycles, sewing machines, blankets and a host of other practical gifts were received with open hands. A message of eternal hope, found in the Word of God, hit the ears of all who attended. The love of Christ brought 540 families together, while impact and transformation awaited just around the corner.
Asin received a sewing machine and is able to sew clothes again! "My sewing machine had not been working for a long time," Asin says.
"Due to that, I was not able to stitch the clothes. But I thank God for [Gospel for Asia] for having concern toward me and giving me a sewing machine."
Another life touched by this Christmas gift distribution was a man named Raksa…
READ THE REST OF THE REPORT ON PATHEOS.COM
---
Learn more about how generosity can change lives. Through Gospel for Asia (GFA World) and its Christmas Gift Catalog, gifts like pigs, bicycles and sewing machines break the cycle of poverty and show Christ's love to impoverished families in Asia. One gift can have a far-reaching impact, touching families and rippling out to transform entire communities.
Learn more about Gospel for Asia: Facebook | YouTube | Instagram | LinkedIn | SourceWatch | Integrity | Lawsuit Update | 5 Distinctives | 6 Remarkable Facts | 10 Milestones | Media Room | Leprosy & COVID 19 | Endorsements | 40th Anniversary | Lawsuit Response | International Offices | Missionary and Child Sponsorship | Transforming Communities through God's Love
Notable News about Gospel for Asia: FoxNews, ChristianPost, NYPost, MissionsBox
---